They're the one!
I asked Rachel and Steven shortly after meeting them when or how they knew that the other was 'the one'.
Rachel said – "Steven was really there for me when we lost our childhood dog, and then getting ready to go back to college."
Steven said – "I always enjoyed my time with Rachel, but when we started our long distance relationship – that's when I knew she was the one"
This is one of my favorite things to learn about my couples. There are so many different factors, circumstances, times together, times apart, and so much more that can spark the fire of the forever love. I also feel that knowing this little bit of information also allows me to know so much more about who they are as a couple.
The Wedding
Wow – what an awesome wedding this one was! I don't even know where to start. The photos will truly have to tell the story for the most part. I met Steven and Rachel through Steven's awesome cousin, Andy, who is a DJ in the wedding industry. We had a blast at their Downtown Annapolis engagement session over the winter – which inspired them to use the local courthouse for some of their wedding photos as well. I am so glad we did, because they historic side of the building was gorgeous! They spent the morning getting ready at houses right next to each other (talk about anticipation – I can't imagine how hard it was to not want to knock on the door to see each other). They were married at St. John's Catholic Church in Westminster, which just so happened to be the same church that Steven was baptized in. So cool, right?! Not to mention, the church is absolutely beautiful and has an awesome portico across the street where they held their reception.
After the ceremony and a few fist bumps down the aisle we all boarded the limo bus and cruised around Main Street for their bridal party and newlywed portraits. Side note – just wait til you see the amazing color of the bridesmaid dresses, it's to die for.It was on this bus that I got the inkling that there was some sort of significance to the song Freaky Friday by Lil' Dicky beings as when it came on everyone knew every-single-word, including Steven's parents (I was impressed). Fast forward to the packed dance floor at the reception, Andy announced that he needed the whole Linde clan out on the dance floor as he began to play this song. Though I still don't know the exact relation of this song to the family, it was so much fun to see an entire group of extended family members singing and dancing their hearts out to it.
Their amazing wedding planner and coordinator, Marcie, gave the portico a full face lift for the wedding reception and let me just tell you – her work literally had jaws dropping. From full 360° draping to strategically placed farm tables, greenery covered chandeliers to hand printed envelope inserts to match the napkins, and a dance floor complete with an elegant lounge tucked to the side. It was simply amazing. A few hilarious speeches and one Ice-ing later, the overflowed the dance floor and danced the night away – the catering team even joined in for a song. Words can't even describe how much fun it was.
Congratulations Mr. and Mrs. Linde!!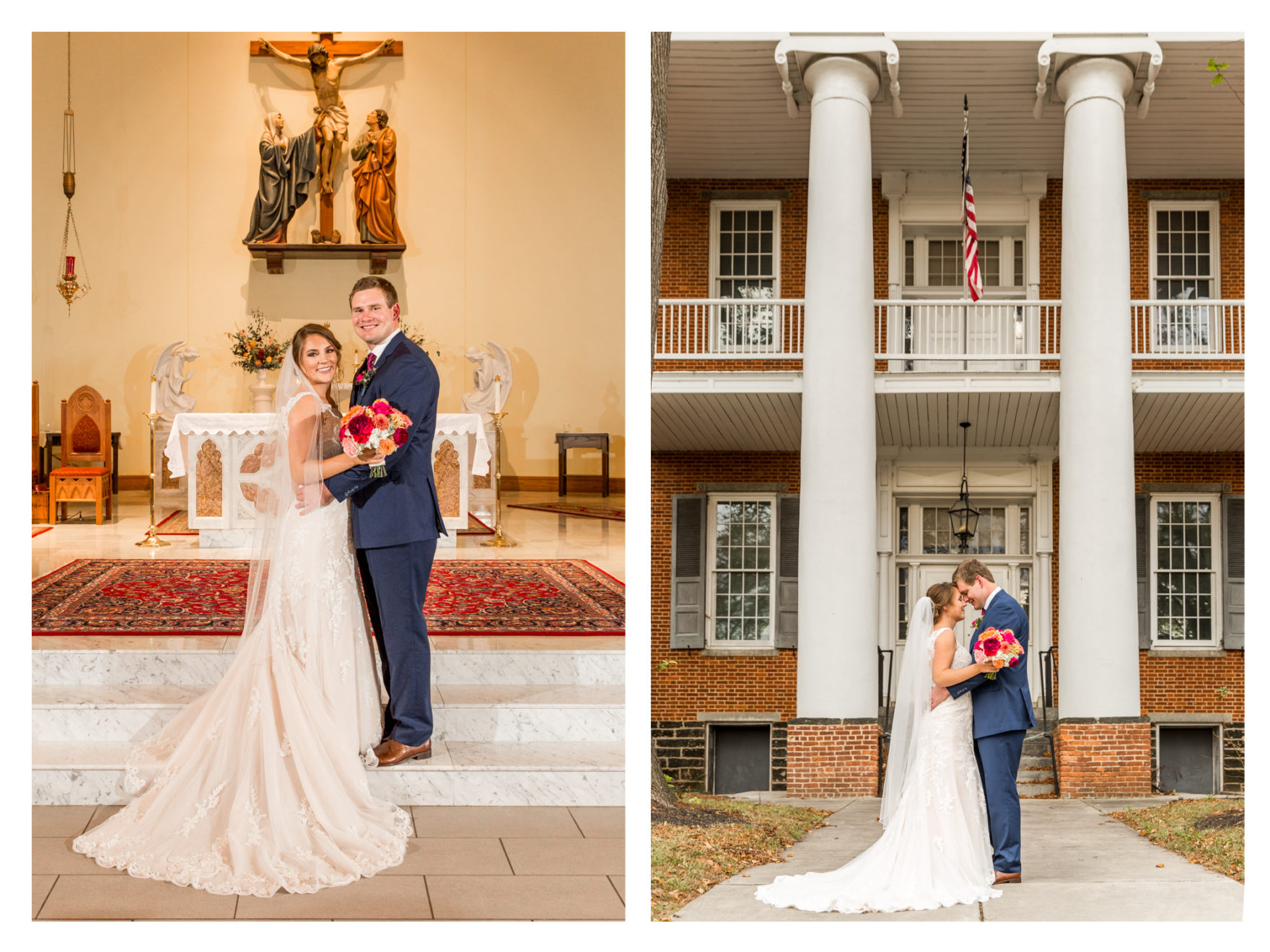 Awesome Vendor Team:
Photographer: Valerie Michelle Photography
Venue: St. John's Catholic Church 
Coordinator/Planner: Celebrating Love by Marcie
Caterer: Pairings Bistro
DJ: Baltimore's Wedding DJ
Dress: Posh Bridal
Cake: Cake by Jason
Hair: InStyle Hair Salon